Unbelievable … it's been an unprecedented couple of days for this project!!! As you know, I'm in the middle of a historic Kickstarter campaign to raise funds for an animated version of Neil Gaiman's wonderful short story The Price. It's historic in Kickstarter terms, because no other project has set out to try and raise this much. There are a lot of cool projects that have raised much more (for example), but I wanted to follow the site's mantra that you should ask for whatever it will take to actually deliver your project. Kickstarter is an "all or nothing" proposition: if we earn 95% and the clock runs out … no money will change hands. Scary – but EXCITING, right???!!!
And about the amount I need to raise: in comparison to other independent or studio productions, a budget of $150,000 is a drop in the bucket! But it's still a boatload of money, and there were lengthy discussions between myself and my good friend Nathaniel Hansen on exactly "how much" to try and raise. In addition, there is the pressure of the very real stewardship I feel to utilize these funds as carefully as possible. We determined that this story was worth every cent that could be mustered-up, and that I didn't want to short change anyone (myself or the many generous fans) by taking short-cuts. I also wanted to be able to offer the other artists who would be involved along the way some kind of compensation for their time & talent – and not have to call in 'friend-favors.' Artists are people too, man!!!
So, the project launched, and support began with wonderful pledges and comments …
and then…
… I received a donation from Neil. Himself. The pledges started to go CRAZY!!! I immediately sent a text to Nathaniel saying something must have happened. I checked on Twitter and noticed that Neil (@neilhimself) had posted the following: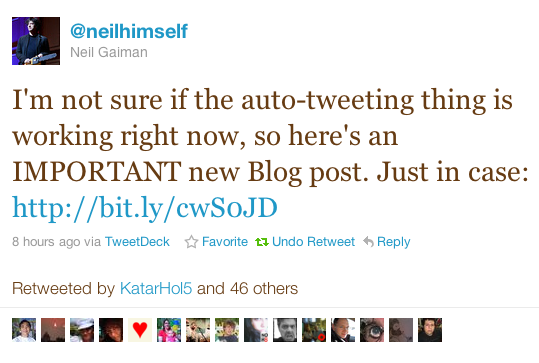 I checked. He did. And what a post!!!
"HE BLOGGED!!" I texted, my fingers shaking. And then, a few minutes later we were privileged with an auto tweet, and all manner of insanity broke loose on the kickstarter pledge page!!!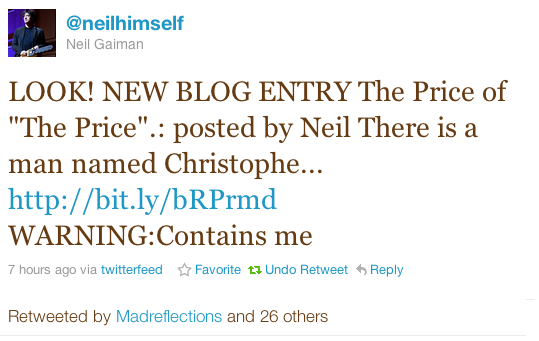 In just 4 hours, we went from 100 amazing backers, to over 300…
There is real power out there, and Mr. Gaiman has a huge chunk of it.
I've been reflecting continually on Neil's own generosity throughout this entire process; to have his wonderful message sent out to fans from his blog was as humbling as it was stunning — reading it was like being in a movie scene, but far better than what I could have imagined!!! My wife and I read it over and over, almost getting a little 'misty,' and not just because we're big saps (which we are), but because it was just so very … kind.What a genuinely kind thing to do — by anyone's standard — but even more so when I consider how busy Neil is with so many, many things on his plate; the whole thing becomes slightly surreal.
I spoke with a writer from Wired.com who had posted an article this morning about The Price. He had made a pledge as well; after I thanked him, he said something I wanted to share that really demonstrates how Neil Gaiman has distinguished himself from so many other 'celebrities.' Said Chuck Lawton,
'To tell the truth, I was particularly enamored with your kickstarter video; I just had a similar geeking-out experience over meeting Neil this past weekend as my wife and I were at the American Gods event at the House on the Rock. Neil was extremely gracious and inviting while hosting this event. John Kovalik, artist and illustrator of Dork Tower who was also at the event said it best when he said, "Anyone in a creative profession needs to witness the care, dedication, humor and respect with which @neilhimself treats his readers."'
I agree 1000%. Surreal.
What's funny is that Nathaniel had warned me the Kickstarter process itself would be surreal (he had a documentary film funded via Kickstarter in May). It really is an emotional roller-coaster to experience such random acts of kindness and faith from other people. I find myself walking around the house in a happy stupor, marvelling at all of this good will, so freely given.
But yes, reality beckons: this film project still has a long way to go before we're even close to our goal, but the proverbial wildfire seems to be catching!!! I hope you will continue to follow our progress over the next 25 days, and beyond…
and, of course … to everyone: THANK YOU SO MUCH!!!