Last Friday evening was made even more wonderful than usual by the sudden appearance of a delivery truck bearing a big brown box, inside of which I discovered an amazing device called a DroboPro FS!!!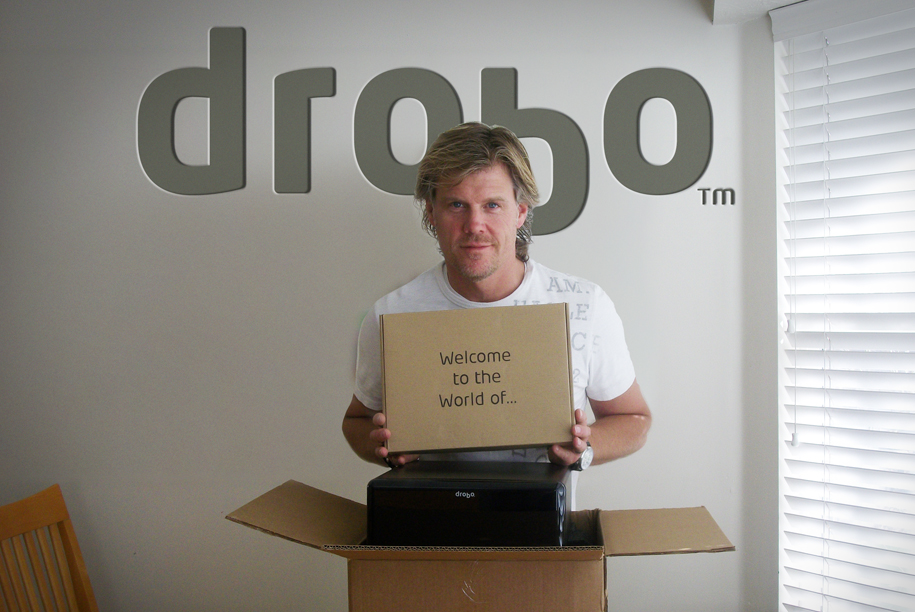 And just what exactly is a Drobo, you might rightly ask? You can watch this for a far better explanation than I am capable of, but basically it is a very smart data back-up system that is absolutely perfect for what I need while working on The Price, and is, quite simply, a Thing-'O-Beauty. Take a look for yourselves:
I can put up to 8 hard drives into this sleek black housing, and happy blinking lights reassure me that all of my precious files are being copied and duplicated.  In the unfortunate (and seemingly eventual) event that one of the drives fails/crashes/dies, instead of me freaking-out and leaping from a building rather than face the reality of losing so much work, all I have to do is unplug the faulty drive and swap in a new one! It will even work in the extremely unlikely case that 2 drives should fail at once; it "self heals" and restores everything back to the way it was — and I don't even need to turn it off! I can add more drives or bigger drives as my storage needs grow … seriously, what could be cooler than having a hard drive system that never runs out of space and never fails? I'll tell you what: Having Kevin Epstien, VP of Marketing at Data Robotics (who created these beauties) send you one because he is crazy about Mr. Neil Gaiman's amazing work and who thinks The Price will be a great little film!!! HOW COOL IS THAT???!!!