The powerful effect that carefully crafted music can have over a medium which we primarily think of as visually-based (like a film or video game) is something I have developed a deep and abiding respect for. That said, you might still consider today's post as being only indirectly linked with my production of The Price, but you'll see the connections soon enough. Also, as the Salt Lake Comic Con is in full swing this weekend, I felt it even more appropriate to introduce you to my 'guest star' as he is one of the celebrities in attendance.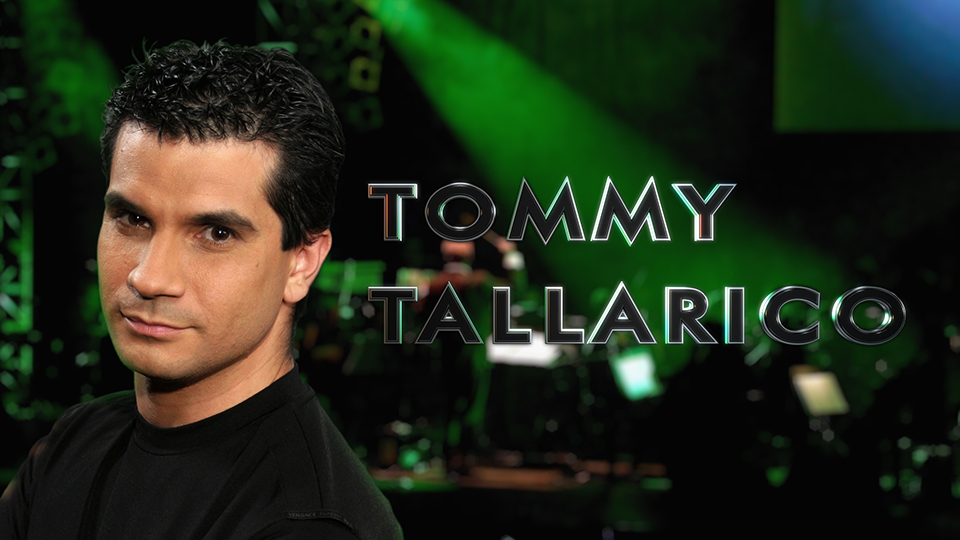 I first worked with award-winning videogame composer & sound designer Tommy Tallarico back when I started in the industry on a violent, first-person car combat scrapper called Redline for Beyond Games. Later, at Glyphx Games, Tommy was asked to compose the stunningly beautiful score to Advent Rising, the first in a proposed trilogy of games for publisher Majesco. Take a quick peek at the Advent trailer below I created back in 2005 for E3 (the industry's premier  trade-show event), and turn the sound up to fully enjoy Tommy's talents:
He has since created the touring sensation Video Games Live, a rock concert-style multimedia performance that combines a full-blown orchestra, stellar vocal performances, multiple video screens blazing away and Tommy himself charging across the stage, guitar in hand & ready to set the world on fire … it may be hard to explain in a few mere words, but trust me when I say you'll never experience anything else like it!!!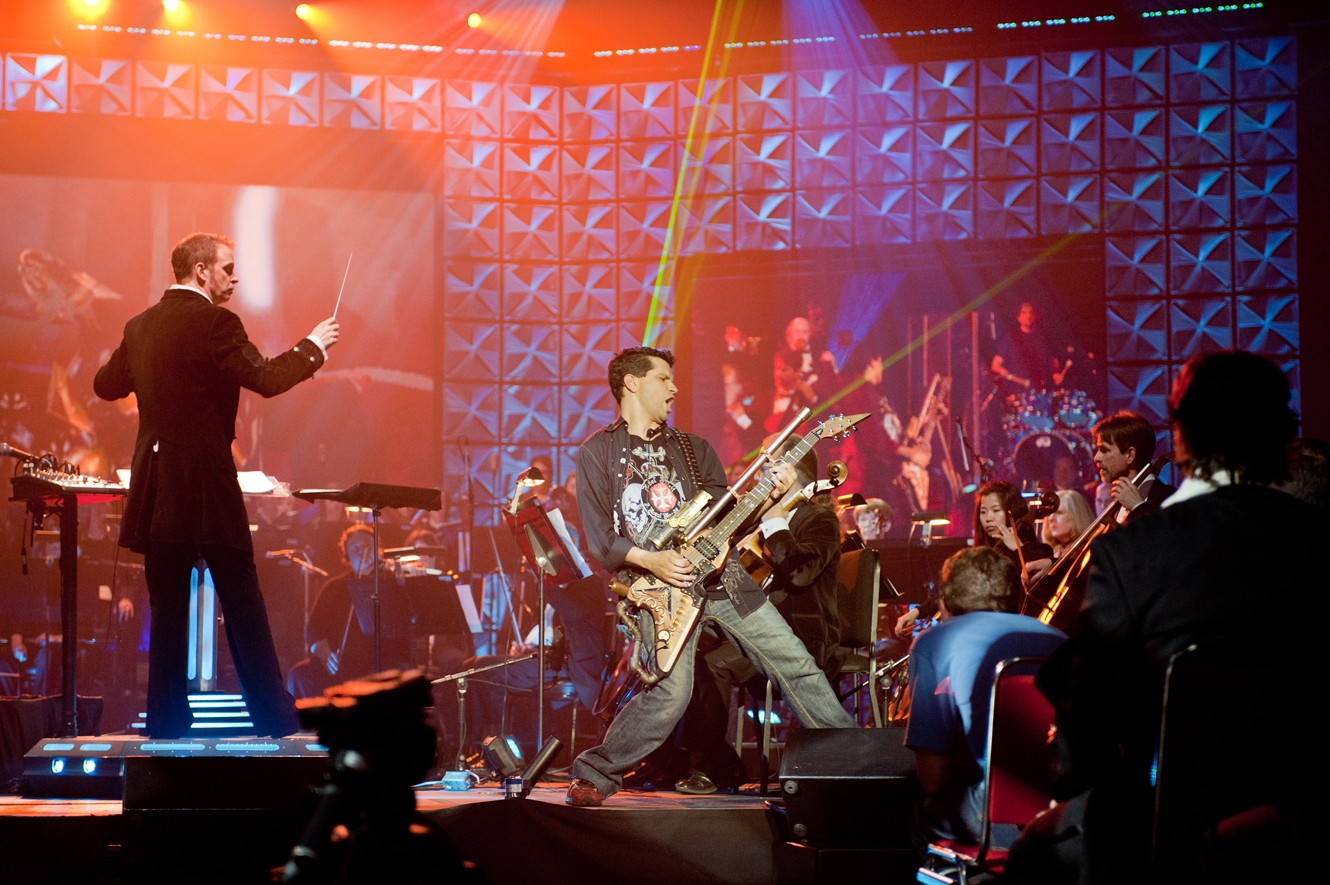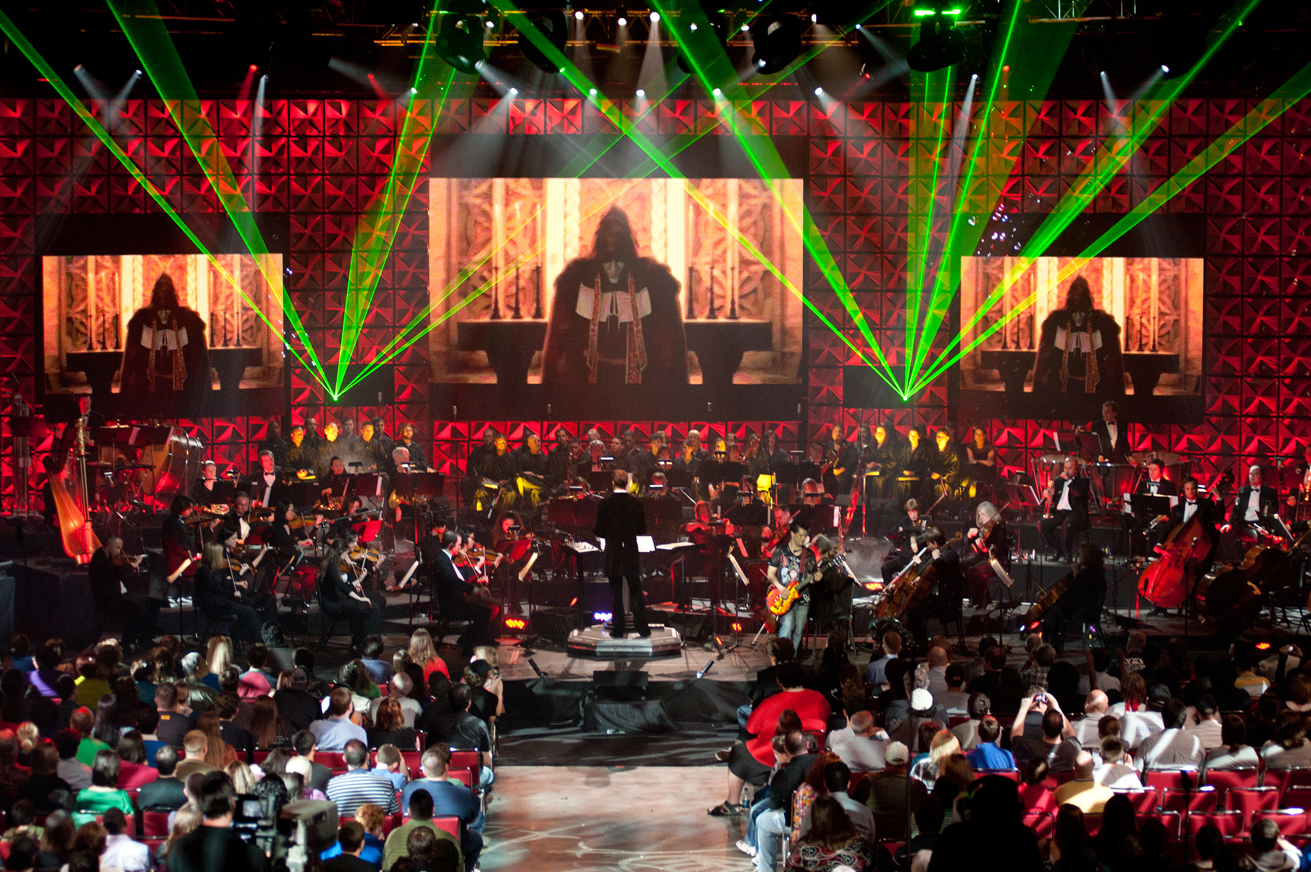 One of the purposes of Video Games Live is to shine a light on the tremendous positive cultural impact that video games can have, especially through their music. Tommy reports  not only are parents responding with elated surprise to their children's enthusiasm at having attended what is essentially a classical concert (albeit on steroids), but even the local orchestral musicians he conscripts to join him onstage can't believe the responsive audiences, giddily sputtering things like, "I've never had a huge crowd go crazy for something I've played before — I feel like a rock star!"
Tommy has already produced 2 albums containing some of the music he has so energetically shared with the world, but in order to reach even more people, he has something unique in mind for developing his third collection. To finance this endeavor, he has turned to Kickstarter (my personal favorite crowd funding platform) for help.
Having mounted a successful campaign myself, I am frequently plied by other potential Kickstarters to spread the word about their pet projects. I have personally backed several  wonderful ideas, but it is rare that I will actually promote any of them to my backers. Tommy however has put together a well thought out, transparent proposal that truly does merit your attention, so I'm embedding his link below:
The rewards actually have substantial value and are well designed to please backers of his project. This guy has been working professionally for over 20 years, and consistently over-delivers, so please check out his proposal and see if you feel inclined to help support Tommy's vision, or at the very least, to share it through your social media channels with your friends. There's only 5 days left, and remember it's 'all-or-nothing' fundraising (either he meets his goal, or none of the pledges are taken).
Now I've got to get back to work — I've making something cool that I'm dying to post here, so more coming soon!