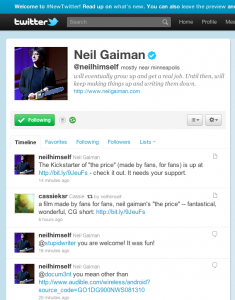 We hoped and dreamed it could happen, but I'll be honest and write that I was surprised to see it happen so early in our fundraising process! Late last night (Monday, November 1st) Neil Gaiman blasted our kickstarter link out to the twitter universe with the following:
The Kickstarter of "the price" (made by fans, for fans) is up at http://bit.ly/9JeuFs – check it out. It needs your support. http://twitter.com/#!/neilhimself/status/29434711213
Just shy of 140 characters, but it's all it took to get our wee project off and running – and a blast of pledges and re-tweets came pouring in – which is so humbling to witness.
Hopefully this is just the beginning of an exciting 29 days – at the end of which we'll have been part of Kickstarter history and we'll be well on our way to delivering a project we know you'll love!
Stay tuned! And if you tweet, give Neil a follow.