I wanted to let you know about one of the many exciting developments that have been brewing over the past few months, and to officially welcome composer Zain Effendi to our small (but highly passionate) production team!
Zain contacted me back in August after viewing the Kickstarter project page, and sent me his website link to sample some of his compositions. His history of working with one of my favorite film composers ever, the hugely talented Hans Zimmer on such films as Pirates of The Caribbean 3, Transformers, and a little movie called The Dark Knight was staggeringly impressive; listening to his work impressed me even more.
The following month I had a chance to go to L.A. and meet with Zain and Brianne, his "Business Partner, Confidant, Best Friend or even Twin Flame" (this last designation he defined as: "two souls that derive from the same source, and continue to meet through past and future lifetimes"… a bit of a romantic to say the least!). I sat and watched the animatic with Zain and Brianne in their tastefully appointed, downtown studio along with my Co-Producer Cat Mihos, and was immediately encouraged to see their emotional reaction to this temp version of the film.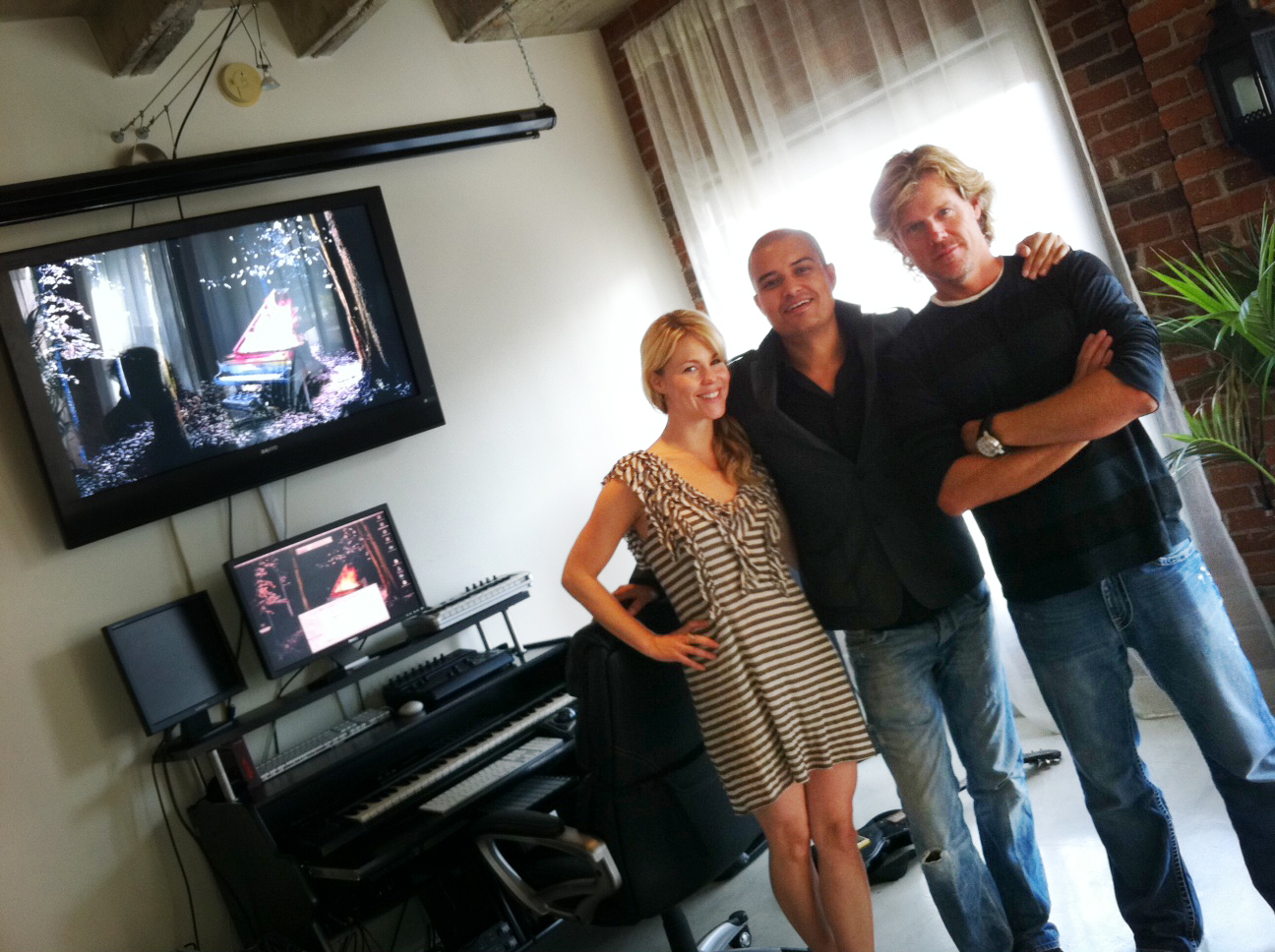 Brianne Gates, Zain Effendi, and myself; photo by: Cat Mihos
A short while later, Zain produced a "rough demo" based on his impressions of the animatic and on several conversations we had shared. It was of immense importance to me that whomever was tasked with creating an original soundtrack for The Price could make me fall in love with their music and set aside the seemingly unbreakable bond I had forged with my temp track (whose copyright remains firmly in the grasp of others).
For whatever reason, my filmic muse is tied directly to music. The first two elements I began with when creating the animatic were a recording of Neil's narration and a repurposed soundtrack. All of the images and pacing and even other sounds developed and grew from that sonic foundation. And because of my particular creative process, the final music composed for The Price would be hyper-critical in maintaining the emotional impact that was already present.
It was hard not to cry when I first listened to Zain's demo. He maintains that, although heart-felt and earnestly crafted, that piece of music was only the start of a much longer process to come of identifying  just the right musical themes and cues, and assembling and polishing and refining … but still, in those simple, elegant phrases, I recognized the same emotional language I was attempting to use. The 'feel' was absolutely right.
And for those who wish to hear a sample of this amazing music, you may have heard it already: I used it in the Castle Gaiman teaser trailer (which you can see towards the bottom of my last post, or if you prefer, on Vimeo or YouTube).
Another astonishing example of the way pieces have been seemingly finding their way together to help form this little film. I remain gratefully humbled, and wildly enthusiastic …