It's been another long stretch between updates, and I have been meaning to share the following experience with you for some time: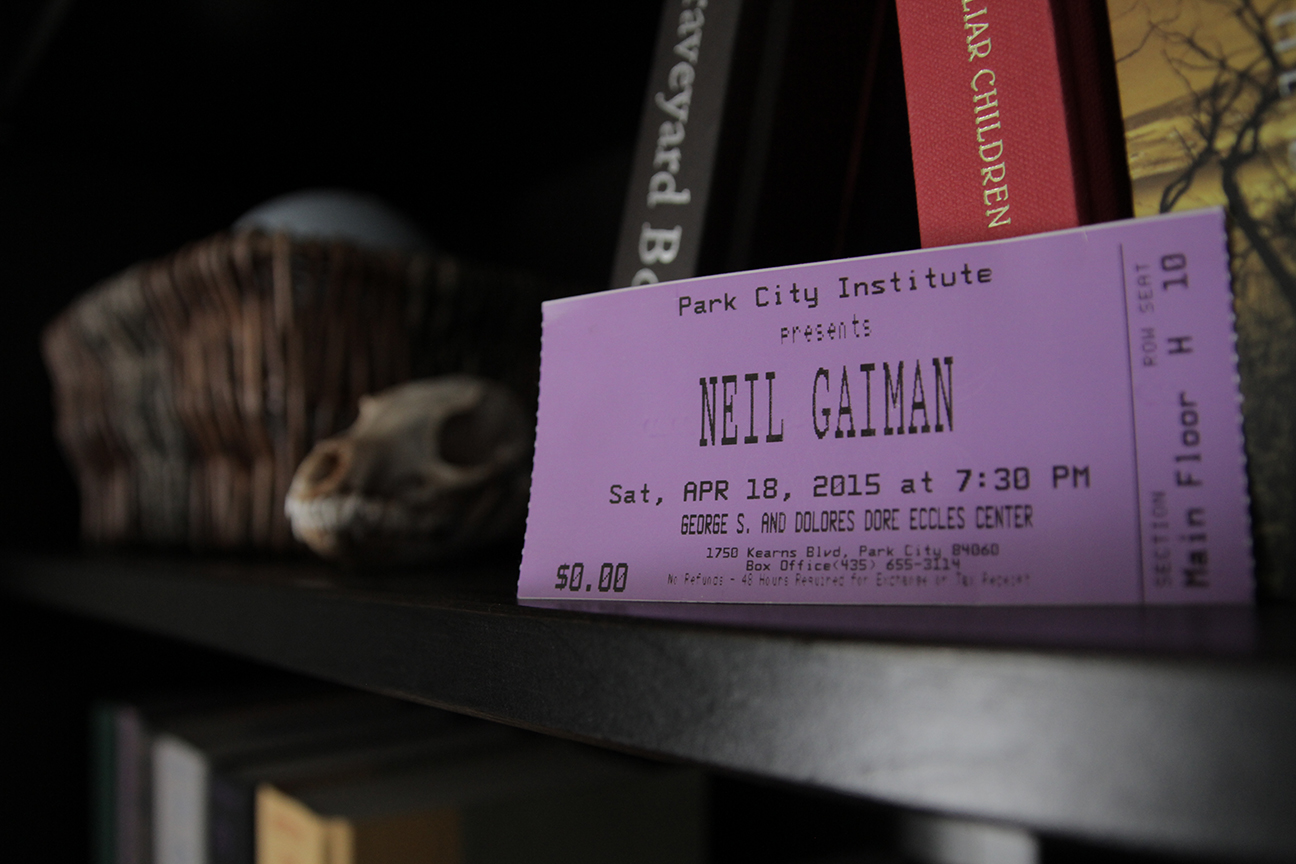 In April, I discovered  to my great delight that Mr. Neil Gaiman would be visiting Park City on the book tour for his latest short story collection, Trigger Warning.  After a call to my producer Cat Mihos to see if she might be able to help procure tickets (and who, as always,  delivered in spades), my wife Glynis and I headed up the canyon on a very pleasant Saturday afternoon, albeit with some nervous trepidation. While hers was more general in nature (like not knowing what to wear mixed with being excited to meet him), I had a more specific focus: I have had several "stress dreams" over the past few years where I am visiting Neil again (somewhere), and he refuses to talk to me or even acknowledge my presence! I know (from Cat) that he occasionally gets asked about The Price and its progress, and I never want him to regret telling CNN about the project and the Kickstarter campaign,
"For an author, it's fun. Instead of selling the rights to my story, to actually kick in a few hundred dollars – but I don't think I could do that if I didn't trust Christopher Salmon to make a great little film."
Given how long this production has taken, you can see why I was a little concerned at what he might say, face-to-face.
Well, I needn't have worried. Once we arrived and gave our names to a very helpful staff member of the Park City Institute venue, we were escorted backstage to join a group of about 40 other people, who were milling about and eating snacks while awaiting their turn for an audience with Mr. Gaiman. Glynis and I took our place in the queue and watched him take his time greeting fans and chatting amiably with each one (I've noticed with amazement at how patient and genuine he is with people in general). After listening for a moment, my wife leaned over and whispered, "Wow, that voice…" She has become well-acquainted with its tone, timber and cadence, having heard his recorded narration of The Price on countless occasions (mostly as it issues forth with regularity from my basement cave/studio), but it is exponentially more mesmerizing in person. I kept stealing glances at him and noticed he looked a little different since I visited Castle Gaiman 4 years ago, most notably with the addition of a beard. At one point, he actually called out "Hello Christopher," while finishing-up with his current guest. Then it was our turn.
I said hello, shook his hand and hugged him, and introduced my wife. She has a natural grace with people no matter the circumstance, and stepped over to him, saying easily, "I have to give you a hug as well!" Then while still hugging him, she said very quietly, "Thank-you for believing…" As her voice started to break, the moment became something tender and heart-felt. He hugged her back with genuine affection, and the last vestiges of my anxiety melted away completely.
We had a wonderful conversation (while several of the bewildered guests backstage looked on, no doubt wondering why they didn't get a hug); I mentioned his beard ("I do some teaching at Bard's [a College in NY] and so I needed to actually look like a professor for the students to take me seriously."), congratulated him and wife Amanda Palmer, who are expecting a baby in September ("I'm absolutely terrified!"), and that led us to talking about families and sibling age differences. Then, in a more somber tone, he said he knew that our family had experienced some very difficult events recently​, to which Glynis replied, "Yes we have; but everyone has their own trials to go through, don't they?" Neil paused and said thoughtfully, "It's true, we all do." Again, her response was perfect and seemed to acknowledge his sympathies without making things feel too heavy.
He then told me how much he has enjoyed everything I've posted about The Price, and surprised me by saying, "When you are finished with the film, we should get together and re-record my narration. I was very, very tired when I recorded it the last time, and once we have a copy in the studio and can play it back, I can read to match the feel of the film." I was stunned, because that is precisely how I was feeling about the recording we made in LA at Rob King's Green Street Studios — but I certainly wasn't about to complain, or try and impose upon his good nature to do it all again! He said he watched the teaser trailer and remarked that the visuals were so good, he wanted to bring the audio up to the same level  (I think my grin was so wide at that moment it almost cracked my head in half). I was deeply impressed that he recognized the discrepancy and then kindly suggested we do it again, sparing me the difficulty of having to ask, all the while reassuring me that my sensibilities were on track. I promised him of my resolve to never give up, and had the overwhelming sense that he was very pleased with what I was doing and confident in what The Price will become. We took some pictures, said our goodbyes, then Glynis and I took our seats and thoroughly enjoyed the next 2 hours as he enchanted and delighted the sold-out Eccles Center audience. (You can listen to a recording of the event here.)
Later there was an after-party held in a local gallery where we had a chance to meet other NG admirers and talked with two different couples who recognized me and were following the progress of my little film (one was a Kickstarter backer, the other had attended a presentation I recently gave at the Life, the Universe and Everything Symposium). It was humbling and extremely gratifying to feel their enthusiasm for the project. Despite the occasional negative comments I get, having the opportunity to interact with people standing right there in front of me who are as excited as I am to see the finished film was uplifting and hugely inspiring.
I drove home that night wondering at how — just when your reserves feel as though they are about to run dry — these incredible experiences seem to come along in the proverbial "nick-of-time." Personally, I don't believe them to be coincidences. Getting those gentle reassurances was exactly what I needed… and now I pass them along to you.