Every year it seems my family and I wind up celebrating my birthday somewhere along the vast stretches of interstate that constitute the 1000 mile pilgrimage we make each summer to be with family north of the border. A sourly noted  coincidence is that it almost always occurs during the very week of the San Diego Comic Con — the Mecca of all Geekdom — and often while I'm not even in the same country.  Although this has never been a big deal (as I cherish every minute we get to spend in the gorgeous Okanagan valley), I have long wished for an opportunity to go and see for myself what all the Comic Con-fuss is about.
Part of the joy in writing this blog comes from the opportunity to share with you some of the astonishing experiences that have transpired during the production of this little film. Most recently, two things happened that made this year's birthday extra-extra-special…
First, I had the extraordinary good fortune of being invited to attend and participate in the 2016 San Diego Comic Con!
And then, this happened: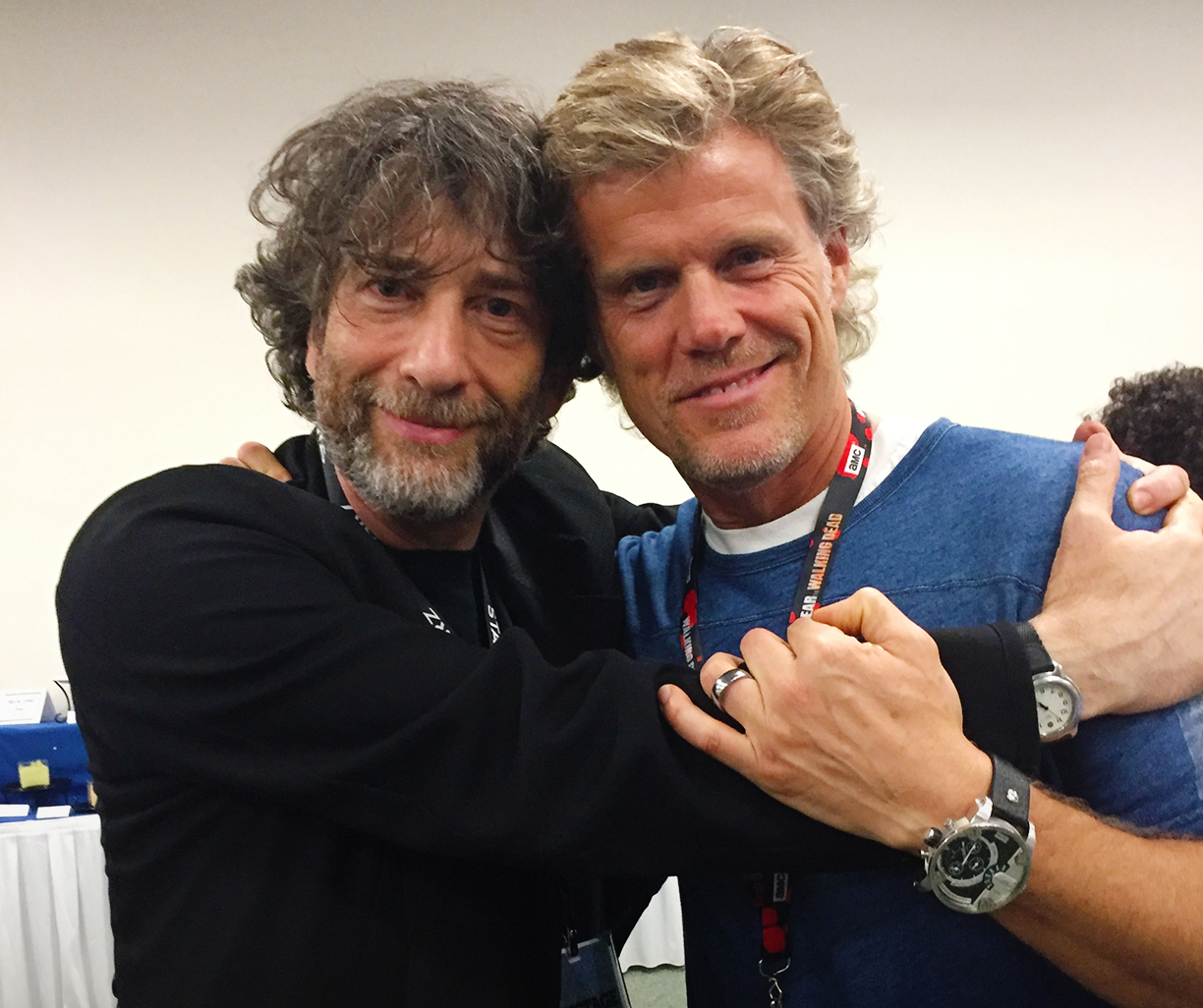 Photo by: Mysterious Female Gaiman Fan (who took this for me after I took one for her)
I'm going to explain the excessive use of italicized words in just a moment, but there is something more important to show you first: here is the brand new trailer that was created exclusively for Comic Con!
It was such an enormous thrill to watch this on a huge screen and hear an audience (larger than my family) react to it for the first time!
So… how did all of this come about? Neil's Director of Development (and my own wonderful Producer) Cat Mihos asked me to be a part of a special SDCC panel entitled "Neil Gaiman in Film." Focusing on the work of several talented artists who have been inspired by Mr. Gaiman's life and creations, each of us showed clips from our cinematic projects and shared the motivations for making them.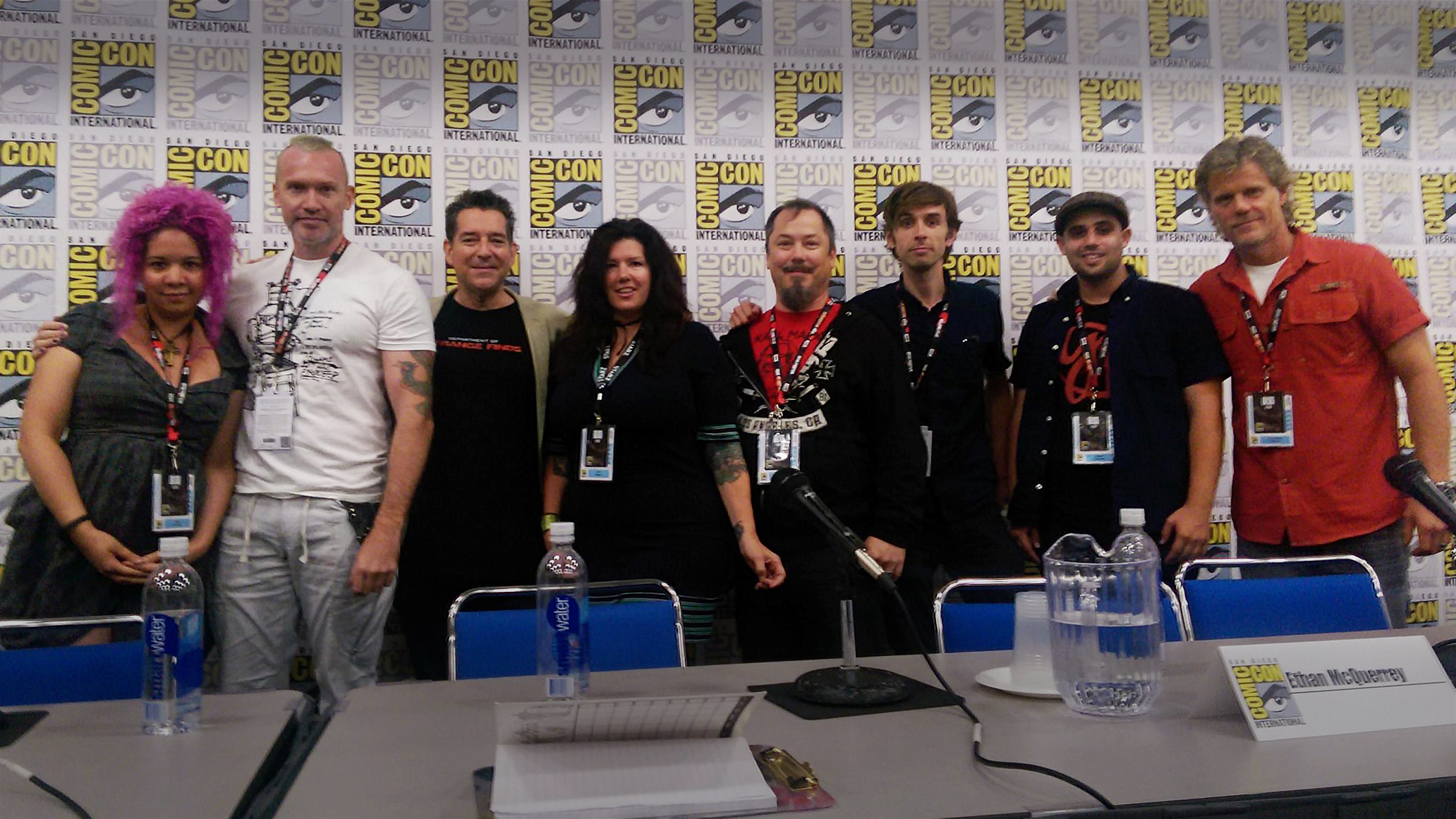 Photo by: Tyler Bel
From left to right, our distinguished (motley) group included: Olga Nunes and Alan Amato with their documentary Temple of Art, our fabulous moderator (and childhood friend of Neil's) Geoff Notkin, the incredible Cat Mihos herself, her partner-in-crime and the panel's appointed color man Ethan McQuerrey, Patrick Meaney the director of the featured documentary Dream Dangerously, his cinematographer Jordan Rennet… and that other dude there at the end.
(As I began listing these talented folks it became apparent there was no realistic way to include all of their multi-hyphenate descriptors, so you'll just have to take my word for it: this is a powerhouse group!)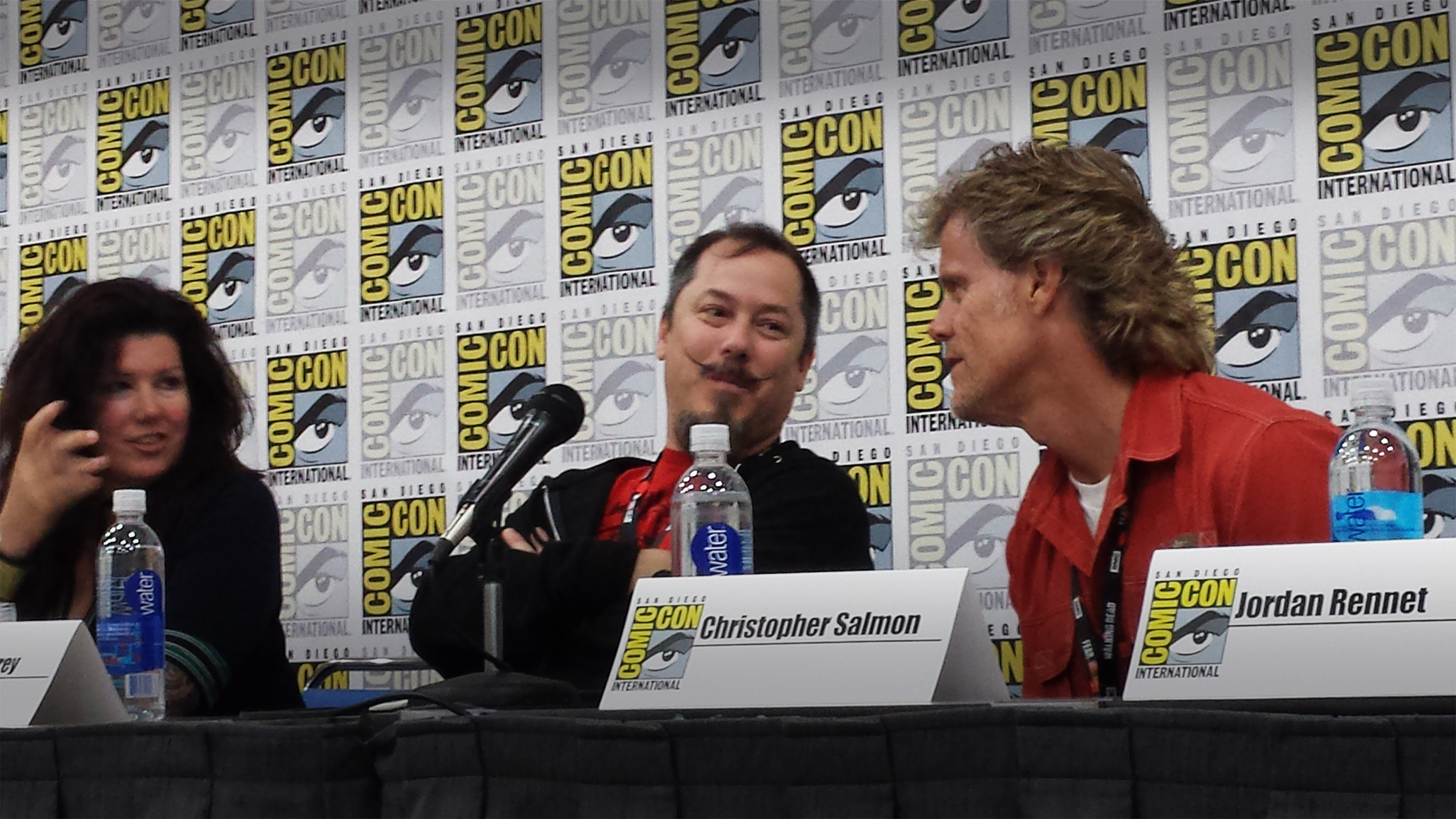 Photo by: Taylor Maw
I was sincerely honored to be included and had a veritable blast onstage (hopefully video of the proceedings will be available soon), but it got even better afterwards when I had the opportunity to speak with some hardcore Gaiman-ites who had stories of their own to share.
First, a young man named Ryan shook my hand as he thanked me for creating the animatic of The Price, claiming he had watched it more than 20 times. He said it gives him hope as an artist (he is a writer) when hitting those down days that we all struggle through, and found it has provided inspiration for him to keep going. I was overwhelmed to hear this, and felt an intense gratitude that my little prototype film had such an effect on this earnest fellow; his enthusiasm to see the finished movie was humbling.
Next, a woman named Sarah approached me with tears in her eyes. She thanked me for working on The Price (her favorite short story), and referenced something I'd said when introducing the teaser trailer for Castle Gaiman. It was reminiscent of this blog post about my visit to Neil's Midwestern home where the real-life events of this fictitious story took place. I told the audience (who all looked at me in various shades of jealous-green) about getting to spend time there, catching glimpses of the relationships he has nurtured not only with a variety of 'lost' animals that he shares the house with, but also the 'lost' people with whom he surrounds himself. And by 'lost,' I mean individuals who may not feel as though they fit the regular-shaped holes that society has available for them to fill; somehow, he has made them all a home.
Because of this remark, Sarah related an experience several years prior at Comic Con when she had waited for hours to see Neil in sweltering summer temperatures and while she was extremely pregnant (with a son who was attending himself this year). At some point, she was told that she had been waiting in the wrong line, and had to scramble up elevators and down corridors to arrive at the new location. Then, after waiting even longer in this second queue, was informed she had been in the correct line the first time around, and would now miss the event altogether. Heartbroken and feeling miserable, she made her way back only to find closed doors; all her efforts to see him had been in vain.
But wait…this is a Neil Gaiman story, so it can't possibly end there, right?
With a huge smile, she said that as Neil was leaving the room after the panel concluded, he recognized her from the line, walked over and sat down for 15 minutes to chat with a tired mother whose fan-hopes were suddenly rekindled in the best possible way.
"I was one of those lost people you mentioned." she finished, her eyes still gleaming.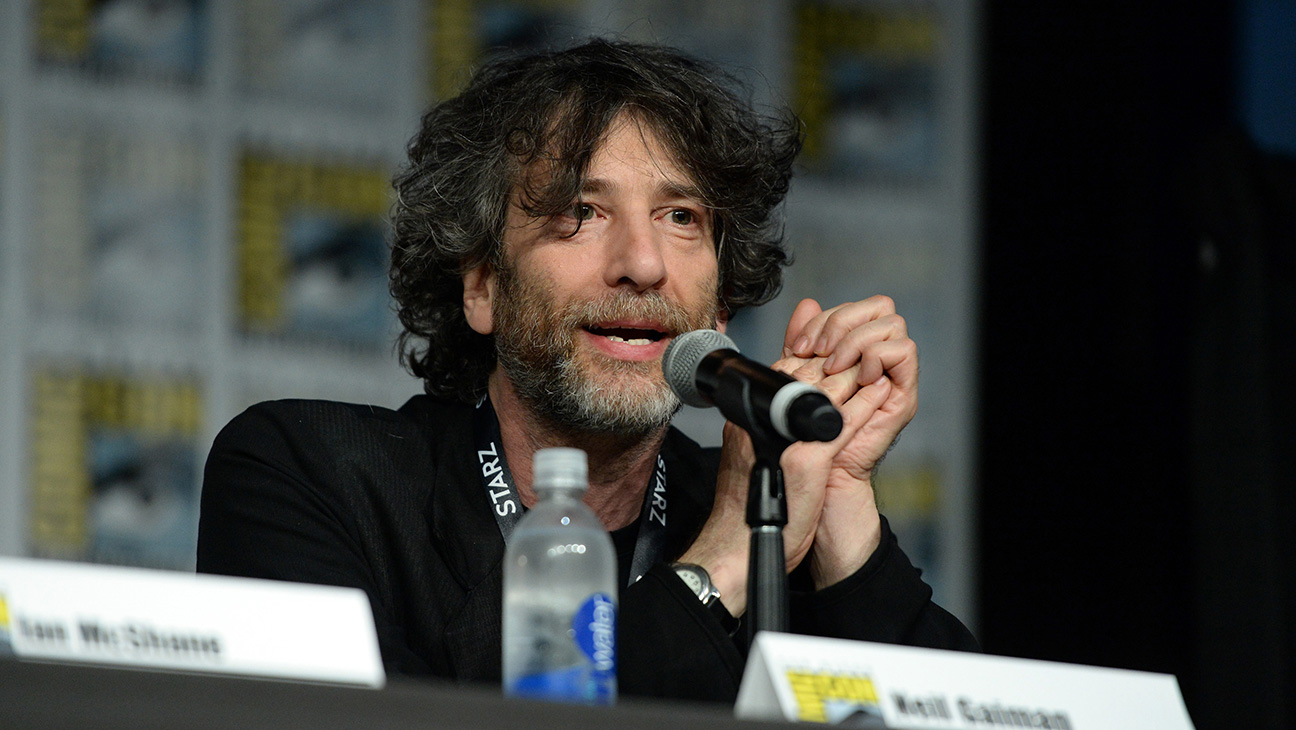 Photo by: Michael Kovac/Getty Images for STARZ
Everything about this entire experience was so overwhelming that I cannot begin to give you an accurate sense of what it all felt like (keep in mind this was my first time at SDCC), but let me share a few more moments.
Getting to attend the American Gods panel as part of Neil's "entourage" was both exhilarating and rather startling, especially when finding myself at the pre-panel gathering in the presence of actors like Ian McShane, Kristin Chenoweth, and Producer/Writer and Showrunner Bryan Fuller. I'm standing there trying not to gawk openly at all of these people, when Neil calls out my name and comes over for a hug while wishing me a happy birthday — I mean, it doesn't get much better than that, right? I don't even know if I said anything that made sense after that, just grinned a whole lot. Maybe too much.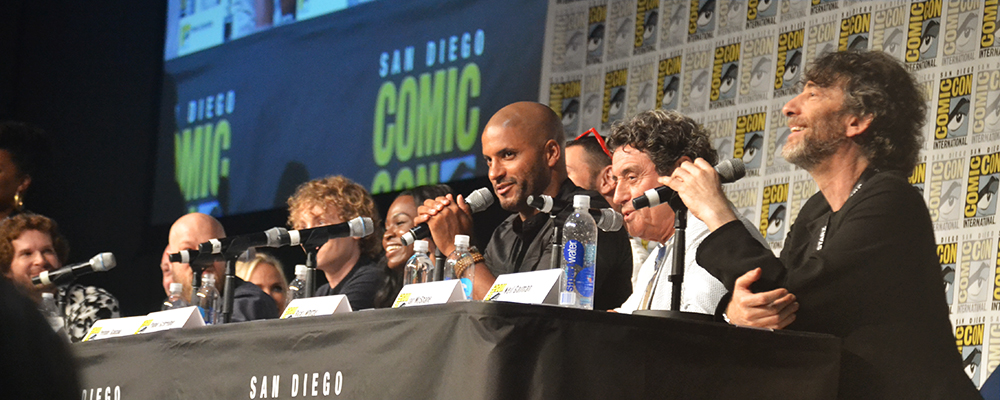 Photo by: Natalie Fisher
After his panel — and it really did belong to Neil, as the audience cheered and clapped for all of the guests, but absolutely went berserk when Mr. Gaiman took the stage (you can see for yourself here) — all the participants and their guests returned to the same private gathering room, and again, Neil took time with me for that priceless photo above and to chat amiably with the horde of people who all wanted a piece of his time. I was able to meet some wonderful new friends, and once again was left to marvel at the generosity and kindness of a genuinely good man who has touched so many, many lives.
This was my POV from backstage — crazy-cool!
On top of all this, there was the thunderous, mind-blowing insanity that is Hall H, the ultra coveted venue that people literally camp overnight in line just to be a part of. It was like a full-on rock concert in a 7000 seat madhouse! Screaming fans, laser holograms projected on smoke, ear-splitting audio all fused to the kind of live-wire adrenaline that drives everyone to their feet when someone like Benedict Cumberbatch suddenly appears onstage… jaw-dropping!!!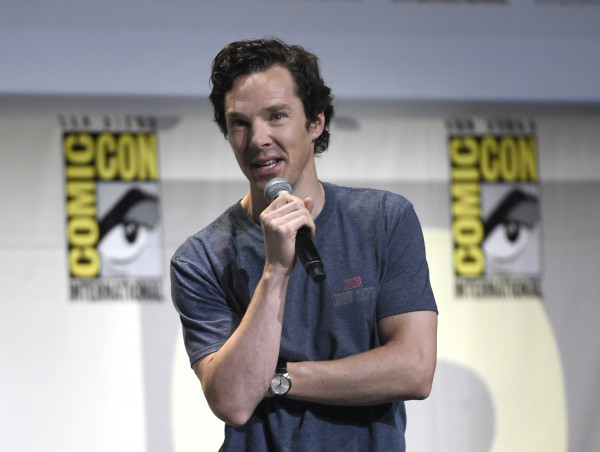 Photo by: Chris Pizzello/Invision/AP
In addition to the marketing juggernaut of the Marvel panel, there were other phenomenal events to savor, like the Aliens 30th Anniversary panel with James Cameron and Sigourney Weaver — I was in heaven!
What more can I say? Only that I hope you enjoyed this offering and the spirit in which it was given, one of gratitude and pure amazement at getting a chance to be there and take part in so much geeky-goodness!
One last thing… my Comic Con experience was made possible through the tireless, behind-the-scenes efforts of the person who my wife has pointed out is the equivalent of our own personal Black Cat. Like the quiet hero of The Price, she is the resilient and positive force that brought everything together at SDCC and kept it flowing: Cat Mihos (along with her awe-inducing hubby, the giant, pony-tailed, kilt-wearing dynamo that is Drew Johnston). Her consistent encouragement and genuine desire to help others has been a source of inspiration and hope even durning times when this project was moving so slowly, it was hard to see progress. She has opened many doors for me (and others), and creates networks between those of us lucky enough to associate with her. And when I witness how deftly she coordinates the intense storm of focused attention that always threatens to engulf her beloved boss, I know she is his Black Cat as well.
A 1000 thank-yous, my friend.