Whether you are drawing a picture, staging a scene in a play, or taking a photograph, the way you choose to present the elements of your creation to an audience has a huge impact on how they will receive the message you are endeavoring to send.
As I was starting to put together storyboard frames for the animatic, one of the first images that formed clearly was this one: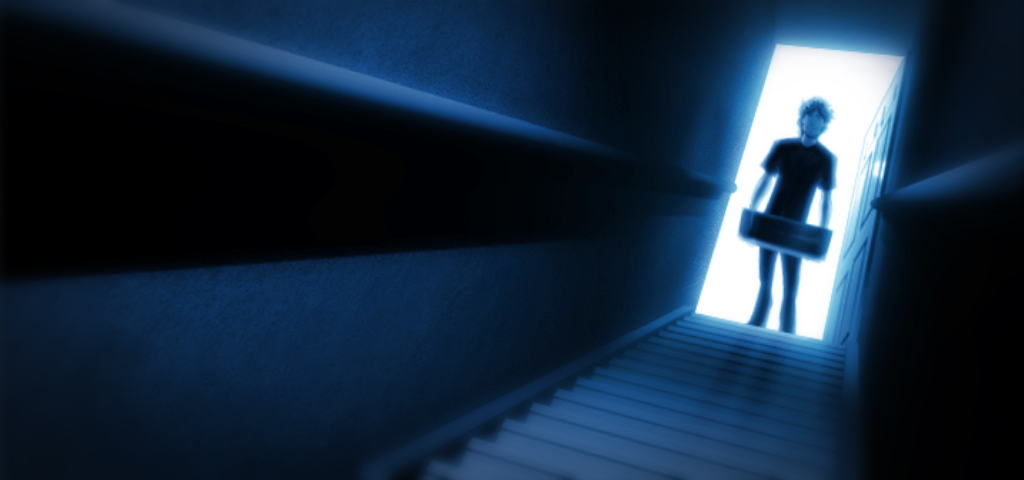 There are times when I struggle to find an interesting way to visualize a scene, but this one leapt fully-formed into my mind. It made me feel everything I was hoping to convey: trepidation, wariness, anxiety and a bit of mystery as well. Although it may just be a basement stairwell, at this point in the story the audience needs to feel like there is definitely something askew with the visit of this seemingly innocuous black cat. I didn't try to over-think things when putting it together, but the lower, canted angle, strong contrast, and the off-center placement of the doorway at the top of the stairs all combined to create the tone I wanted. It remains one of my favorite shots, so when it came time to build the actual scene, I kept the composition intact.
I hope you are enjoying these images and insights as much as I enjoy sharing them!
Oh, one last thing: is anyone planning on attending the San Diego Comic Con in July? Just asking…